Lif On Cereal Drink (Original)
Lif On Millet Plus Brown Rice Cereal Drink is made of finger millet (ragi), brown rice with brown sugar contains High Calcium, High Dietary Fibre, Source of Iron, Cholesterol-free and Less sugar content. It's designed to provide a Convenient On-The-Go drink or meal. The dietary fiber keeps the stomach full & helps to avoid overeating.
What is ragi/Millet?
Ragi/Millet, tiny red grain with big benefit. Ragi or finger millet is one of the most nutritious and healthy cereals. Millet/Ragi is an amazing "super cereal" that provides wholesome nutrients to enhance health. Suitable for all ages.

Lif On Cereal Drink (Original)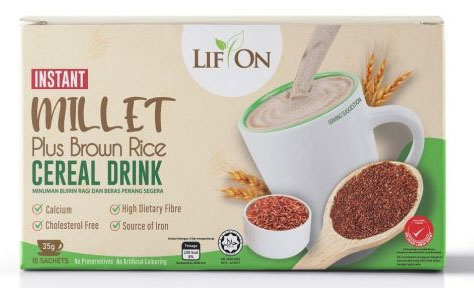 Why choose Lif On Cereal Drink?
✔ Cholesterol Free
✔ High Dietary Fibre
✔ High Calcium
✔ Source of Protein
✔ Source of Iron
✔ No Thickener added
✔ No Artificial Flavouring and Colouring added
✔ No Preservative added
Nutritional Facts (Per Serving 0f 35g )
| | |
| --- | --- |
| Calories | 150kcal |
| Fat | 4.5g |
| Saturated Fat | 4g |
| Trans Fat | 0g |
| Cholesterol | 0mg |
| Carbohydrate | 26g |
| Total Sugars | 9g |
| Dietary Fiber | 6.5g |
| Sodium | 195mg |
| Calcium | 90mg |
| Iron | 0.7mg |