Lif On Instant Skim Milk has low fat and high Calcium content to provide you with an easy access to premium wholesome skim milk.
Lif On Instant Skim Milk is fortified with Vitamin A,C,D,E,K, Calcium, Folic Acid, Iron. Milk source from New Zealand and is of Grass Fed.
Lif On Skim Milk is most suitable for age 30 and above.
*Not suitable for infant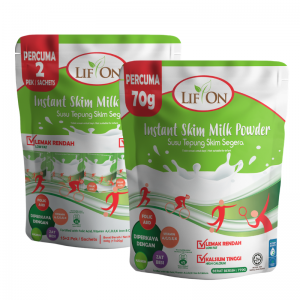 2 sizes –
700g + FREE 70g
340g ( 17 sachet x 20g)
Best consumed within 1 months of opening. Best kept in air tight away from sunlight.